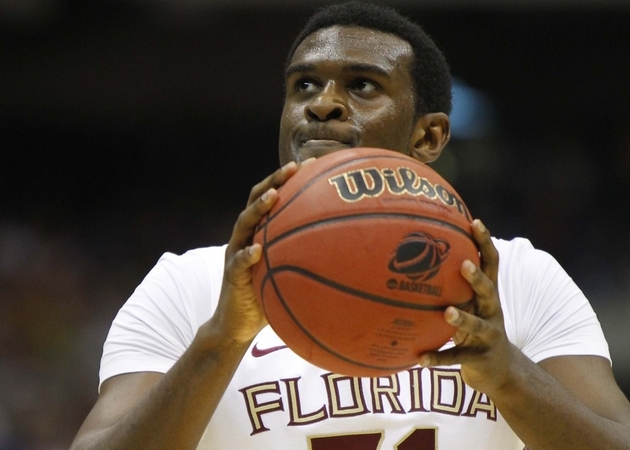 Posted by Eric Angevine
Freed from the NCAA's restrictions on student-athlete earnings, former Florida State star Chris Singleton is ready to use his abilities to get paid. DraftExpress considers the 6-foot-8 ex-junior to be a
low first-round NBA prospect
based on his collegiate body of work, which includes a run to the Sweet 16 just two months ago.
Singleton, however, isn't putting all of his eggs in that one basket. Along with teammate AJ Yawn and a couple of other friends from FSU,
Singleton is launching a new clothing line
, called Doughpe Clothing.
Seminole-centric website PlanttheSpear.com posted an interview with Yawn on May 17th. The first thing they had to clear up was the pronunciation of the new brand name (Tampa-based comedian Mike Lortz thought it was "dog-pee" before Yawn clarified things):
[AJ Yawn]: The uniqueness of the company name, paired with the familiarity of the term as it relates to the common phrase 'dope' meaning cool, and socially acceptable in the hip-hop culture, will attract customers within the target demographics. Consumers in our target audience won't have a problem accepting the name because the word "dope" is used in daily slang describing something that is fresh, new, or cool. Doughpe is a creative spin on this word and places the customers in a mindset that even before they see the product, they are assured that the clothing will be something they would like and desire to purchase.
Having a likely first-round NBA pick on your marketing team probably won't hurt, either.
According to Yawn, the new line is aimed at skater culture, and the first offerings on the Doughpe website bear the enigmatic phrase "Cool Story Bro" splashed across the front. While Singleton is off to play basketball, Yawn -
Lieutenant Alexander Yawn
, to be exact - is scheduled to start active duty in the Army soon, so most of the company's sales will be carried out online at
Doughpeclothing.com
.
Quite often, newly-minted NBA stars get involved in reckless business dealings after signing massive pro contracts. In this case, Singleton is working with a small group of people he knows, starting out slowly, and keeping his business based in Tallahassee for now. This comes off more as a well-planned foray into the commercial world by a couple of athletes who used their college time to develop brains, and meaningful friendships, as well as muscles.
Photo: US Presswire