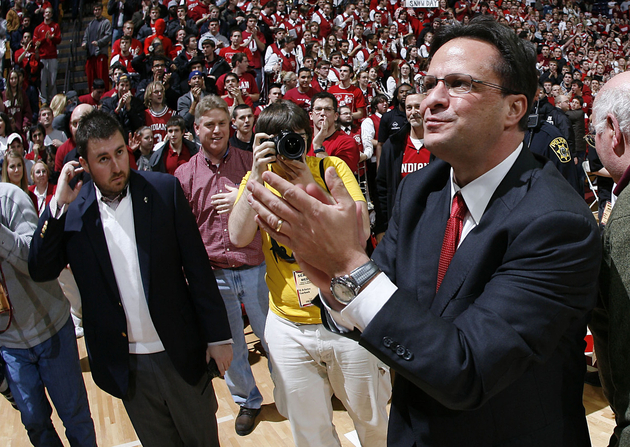 By Gary Parrish
Tom Crean has struggled to rebuild Indiana while rival programs flourish all around him.
That's a tough, tough deal.
John Calipari has Kentucky operating at a different level than almost everybody, Brad Stevens has turned Butler into a national brand, and Matt Painter has established himself as one of the nation's premier coaches at Purdue. Meantime, Crean has gone 8-46 in the Big Ten through his first three years at IU. But fans still remain hopeful because recruiting is now going very well.
And
stories like this
don't hurt either ...
[There is student] at Indiana [who] was finding his adjustment to college a difficult one. Crean saw the young man sitting in the lobby of the basketball practice facility recently and noticed him a couple of times as he went in and out of the basketball offices. He also noticed that the young man appeared to be very upset. Crean invited the student into his office and proceeded to hear his story and counseled the young man on how difficult the transition to college can be and encouraged him to stick with it. He also introduced the student to the rest of his staff and he got him an opportunity to work around the basketball program as a member of the athletic department.
That's a story from David Kaplan at CSNChicago.com that I stumbled upon thanks to
ESPN.com's Eamonn Brennan.
A reader apparently called Kaplan and relayed the tale.
Kaplan called Crean for comment.
Crean declined.
But here's the rest of Kaplan's post.
The young man had turned off his cell phone after telling his parents that he needed to take a walk and think and his parents were very worried when they were unable to reach him. When Crean inquired as to whether the young man had spoken with his parents recently the young man said no. Crean called the parents, gave them his personal contact information and told them he would look out for their son. After arranging for a job in the athletic department the young man is reported to be doing very well and has adjusted to life away from home.
Will stories like this help Crean challenge Tom Izzo, Thad Matta and Bo Ryan in the Big Ten?
Of course not.
But it sure is a helluva nice story.
And my guess is that even the IU fans who are tired of losing smiled a bit when they read it.
Photo: US PRESSWIRE