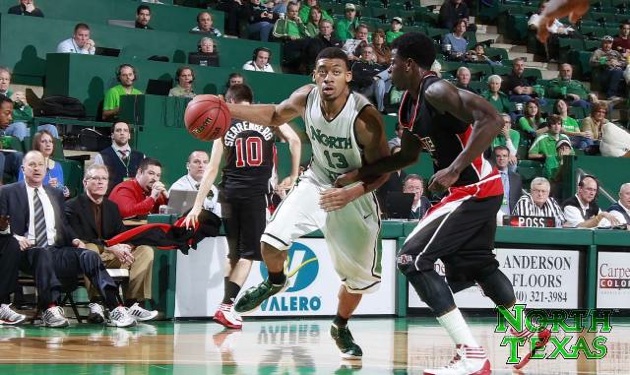 North Texas' Tony Mitchell has established himself as the best mid-major freshman in the country. (North Texas Athletics)
Anthony Davis has separated himself as the clear No. 1 freshman in the country, dominating defensively and getting better and better offensively. There is also a gap between the top five and everyone else, although North Texas' Tony Mitchell is making a run. He's clearly the most talented player in the Sun Belt, and has the ability to carry the Mean Green to an automatic bid in the conference tournament. If he continues to produce like he has, he could close out the best mid-major freshman race fairly quickly.
The Freshman of the Year rankings are released every Thursday afternoon, shortly after Jeff Goodman and Gary Parrish's Player of the Year rankings.
1. Anthony Davis, Kentucky (Last Week: 1): 13.5 ppg, 10.2 rpg, 4.7 bpg, 65.0 FG%
Davis shot 12-for-13 from the floor in the past week, blocking 10 shots and making his case for National Player of the Year. He also averaged 17.0 points and 9.0 boards.
2. Michael Kidd-Gilchrist, Kentucky (Last Week: 2): 12.8 ppg, 7.7 rpg
Kidd-Gilchrist didn't have his best week of the season, struggling against LSU with only one point on 0-for-5 shooting. He bounced back with 16 and eight, though.
3. Trey Burke, Michigan (Last Week: 3): 14.3 ppg, 3.6 rpg, 4.9 apg
Burke found his shot against Indiana, going 2-for-2 from behind the arc en route to 18 points and four assists. He also held his own against Aaron Craft and Ohio State.
4. Moe Harkless, St. John's (Last Week: 5): 16.3 ppg, 8.7 rpg
Harkless has increased his stock dramatically lately. He had 30 points and 13 rebounds against Duke, but only shot 2-for-15 with nine points vs. DePaul (although he was hampered by an injury).
5. Cody Zeller, Indiana (Last Week: 4): 15.0 ppg, 6.3 rpg, 65.2 FG%
Zeller has been inconsistent in the last three games, sneaking a 26-point effort in between two games where he averaged 9.0 points on 6-for-16 shooting.
6. Tony Wroten, Washington (Last Week: 8): 17.1 ppg, 4.6 rpg, 3.3 apg
Wroten's consistency has coincided with a nice run lately from the Huskies. He's averaged 19.5 points, 5.5 rebounds and 3.5 assists in his last two games.
7. Tony Mitchell, North Texas (Last Week: 10): 15.6 ppg, 9.5 rpg, 64.0 FG%
Mitchell is dominating the Sun Belt like we thought he would at the beginning of the year. He had 21 points, 15 rebounds and six blocks in a win last weekend.
8. Brad Beal, Florida (Last Week: 6): 14.1 ppg, 5.8 rpg
Beal has limited the bad shots in the past few weeks, and his efficiency has risen as a result. Against Mississippi State, he went for 19 points and also knocked down three 3-pointers.
9. D'Angelo Harrison, St. John's (Last Week: NR): 16.4 ppg, 3.8 rpg
Harrison made his way back into the rankings with a stellar last four games. He's averaging 24.3 points in that stretch, and has vastly improved his shooting: 17-for-32 from behind the arc.
10. Austin Rivers, Duke (Last Week: 9): 14.1 ppg
Rivers scored in double figures for the fourth game in a row against St. John's, and also dished out five assists, showing much-needed creativity on the perimeter for Duke.
Notes:
Le'Bryan Nash was the only one to drop out of the rankings, mostly because of his inconsistency. He has shot just 8-for-24 in his last two games, forcing too much offensively.
Mitchell was the first non-BCS player to move out of the No. 10 spot in the rankings.
If Baylor's Quincy Miller could develop some consistency from the floor, he would easily make his way into the rankings. However, he's only shot 10-for-25 in the last three games.
B.J. Young of Arkansas has seen his numbers dip as the Razorbacks pick up big wins. His shooting percentage dropped below 50 percent for the first time this season.
Providence's LaDontae Henton is doing his best to make his way back into the rankings, going for 33 points and seven boards against South Florida, followed by 15 and nine in a win over Rutgers.
Ole Miss' Jarvis Summers has made only four shots in the past three games, after scoring in double figures 10 times this season.
LSU's Johnny O'Bryant could be headed for a solid final month. He had 12 points and nine rebounds against Kentucky.
Rutgers' Eli Carter has shot just 27-for-79 in his last seven games.
Michigan State's Branden Dawson has really stepped his game up the last three contests. He's averaging 14.0 points and 6.8 rebounds in that stretch, shooting 17-for-28.
Stanford's Chasson Randle was inching closer to the rankings, but he's shot just 5-for-19 in the past two games, averaging just 8.0 points and 1.0 assists.
Ricky Tarrant of Tulane has scored in double figures in his last eight games, including a 33-point effort against SMU last week.
Marist's Chavaughn Lewis is the nation's top sixth man scorer. He's averaging 13.0 points off the bench.
Freshman leaders – Points: Kyle Vinales, Central Connecticut State (18.3); Rebounds: Anthony Davis, Kentucky (10.2); Assists: Dylan Garrity, Sacramento State (6.4)