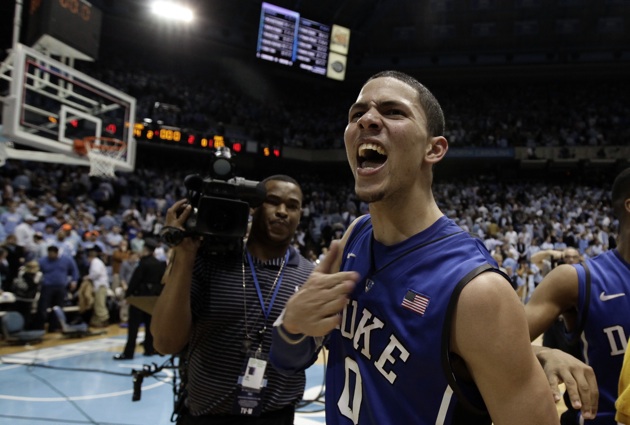 Austin Rivers' game-winner last night, plus his increased scoring lately, moves him up in this week's rankings. (AP)
So much for the freshman wall. What a week we saw from some of the top newcomers in the country. Austin Rivers hit a game-winning 3-pointer; Le'Bryan Nash knocked down a go-ahead jumper and then blocked a shot at the other end; Michael Kidd-Gilchrist did it all; Anthony Davis moved closer to National Player of the Year – and that's just four of them. While Davis continues to separate himself from the pack, the competition behind him is heating up as we head into the final weeks of the regular season.
The Freshman of the Year rankings are released every Thursday afternoon, shortly after Jeff Goodman and Gary Parrish's Player of the Year rankings.
1. Anthony Davis, Kentucky (Last Week: 1): 14.0 ppg, 10.0 rpg, 4.8 bpg, 66.0 FG%
You can't convince me that Davis only had six rebounds and four blocks against Florida – he completely dominated inside. Averaging 18.0 points in last four games.
2. Michael Kidd-Gilchrist, Kentucky (Last Week: 2): 12.6 ppg, 7.8 rpg
Kidd-Gilchrist bolted out of the gate against Florida with a bang, finishing with 13 points and 13 boards. Overall, his offense has been fairly inconsistent lately.
3. Cody Zeller, Indiana (Last Week: 5): 15.1 ppg, 6.4 rpg, 64.9 FG%
Zeller has really picked up his rebounding in the past week, grabbing 20 in the last two games combined. If he can continue to make an impact on the glass, he'll be even more of a factor.
4. Moe Harkless, St. John's (Last Week: 4): 15.5 ppg, 8.5 rpg
Harkless has struggled since his 30-point game against Duke, averaging 10.0 points on 11-for-39 shooting in his last three contests. Grabbing 7.0 rebounds per game in that span.
5. Trey Burke, Michigan (Last Week: 3): 14.0 ppg, 3.6 rpg, 4.9 apg
Burke has been quiet offensively the past two games, making just four shots in each game, averaging 11.5 points. Scoring his dipped since his monster early January stretch.
6. Austin Rivers, Duke (Last Week: 10): 15.1 ppg, 40.4 3PT%
Rivers etched his name into Duke-Carolina lore on Wednesday, with his 25-footer at the buzzer to give the Blue Devils a one-point win. He's really starting to heat up, averaging 22.3 points in his last three games.
7. Tony Mitchell, North Texas (Last Week: 7): 15.6 ppg, 9.4 rpg, 2.6 bpg, 61.6 FG%
Mitchell with another great all-around game: 16 points, 11 boards, five blocks. An interesting note about Mitchell – he's shooting 53.6 percent from 3-point range.
8. Tony Wroten, Washington (Last Week: 6): 16.7 ppg, 4.7 rpg, 3.5 apg
Wroten continues to be slightly up and down. Washington simply looked better without him against UCLA, but he bounced back with eight assists and one turnover vs. USC.
9. D'Angelo Harrison, St. John's (Last Week: 9): 16.4 ppg, 3.7 rpg
Harrison is lighting up the scoreboard the past three weeks. Interesting stat: in his past six games, he's 24-for-45 from 3-point range – and just 14-for-45 on 2-pointers.
10. Brad Beal, Florida (Last Week: 8): 14.3 ppg, 6.1 rpg
Beal has become more aggressive in the past four games, averaging 17.0 points and 7.0 rebounds. His 5-for-15 performance against Kentucky was just one of many bad nights for the Gators.
Notes:
No players dropped out from last week.
La Salle's Jerrell Wright needs to stay out of foul trouble. He was averaging 14.3 points in the Explorers' four-game winning streak, but played just 24 minutes in the last two games total – both losses.
If only Le'Bryan Nash could be consistent. He made two huge plays at the end of Oklahoma State's win over Iowa State, but struggled the previous game.
Notre Dame's Jerian Grant is playing more than 38 minutes per game in his last eight games.
Chane Behanan has really turned it up over the past six games. He's averaging 13.5 and 9.8 rebounds in that span.
Kentavious Caldwell-Pope needs to have more performances like he did against Arkansas on Wednesday. 18 points, 6-for-10 shooting, three 3-pointers.
Quincy Miller of Baylor is reverting back to his December form. He's shot just 7-for-23 in the last three games, averaging only 6.3 points.
It's almost time to think about making room for Michigan State's Branden Dawson. He continues his good play, now averaging 12.8 points and 6.2 rebounds in his last five games.
Freshman Watch wouldn't be complete with a mention of Georgetown's Otto Porter. He had 14 points and 13 boards against Syracuse on Wednesday night.
Providence's LaDontae Henton is averaging 19.5 points and 6.3 rebounds in his last four games.
The biggest freshman disappointment could be Connecticut's Andre Drummond. Other candidates could be Jabari Brown and Khem Birch, then maybe Josiah Turner and DeAndre Daniels.
Texas' Sheldon McClellan is averaging 16.0 points in his last two games.
Richmond's Kendall Anthony has knocked down 16 of his last 26 attempts from 3-point range.
After scoring in double-figures just four times in his first nine games, Tennessee-Martin's Myles Taylor has tallied double-digits in 14 of his last 16 contests.
Freshman leaders – Points: Kyle Vinales, Central Connecticut State (17.4); Rebounds: Anthony Davis, Kentucky (10.0); Assists: Dylan Garrity, Sacramento State (6.4)
More College Basketball coverage