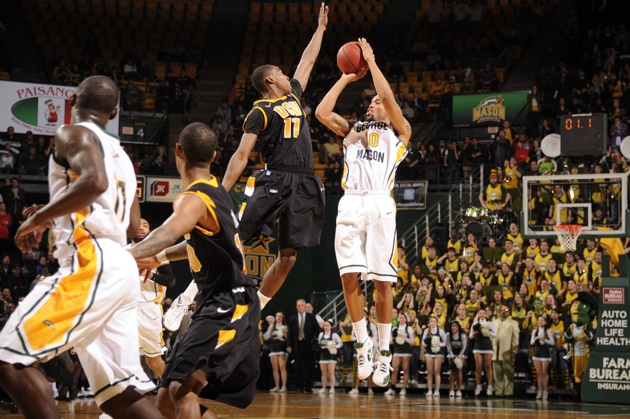 Sherrod Wright hits a 25-footer at the buzzer to give George Mason a two-point win over VCU. (US Presswire)
Here's everything you need to know about Tuesday's slate of college basketball games …
Game of the day: VCU and George Mason have battled for CAA supremacy several times over the past decade, but they might have had their most exciting game on Tuesday night. The two teams were back and forth throughout, but the final 82 seconds were electric. They combined for 21 points in that span, with George Mason knocking down three 3-pointers and VCU hitting seven free throws. It all ended when Mason's Sherrod Wright hit a 25-footer at the buzzer to give George Mason a one-point win, 62-61. Mason is now tied with Drexel atop the standings.
Win to brag about: LSU is finally starting to put some things together lately. The Tigers have won three of their last four games, the latest coming against Mississippi State on Tuesday night. Freshman guard Anthony Hickey hit a runner in the final seconds of overtime to give the Tigers a 69-67 win. With wins over Arkansas, Alabama, Marquette and now Mississippi State, the Tigers are no longer an easy out heading down the stretch.
Loss to hide from: Clemson fell just short against Virginia the first time the two teams played, but the Tigers broke through this time. Clemson outscored the Cavaliers by 12 in the second half, en route to a 60-48 victory. Virginia's Joe Harris was held to two points as he struggled with a broke left hand. Tony Bennett's troops have now lost three in a row, dropping down to sixth in the ACC standings.
Player who deserves improper benefits: TCU guard Hank Thorns knocked down 8-of-12 from 3-point range en route to 32 points, leading the Horned Frogs to a 102-97 overtime victory over UNLV. They were down by 18 points with 15 minutes remaining, and 15 with 10 minutes left. Eight of Thorns' points came in overtime, and the senior also dished out four assists and grabbed five rebounds in the upset win.
Player(s) who does not deserve improper benefits: Coming off a 28-point outing against LSU, Alabama's Rodney Cooper was feeling his oats heading into Tuesday's game against Florida. It didn't really work out well, as he shot 2-for-9 from the field and turned it over four times in a 61-52 loss. Without Tony Mitchell and JaMychal Green, someone needed to step up for the Crimson Tide – on Tuesday, it wasn't Cooper.
Numbers don't lie:
24-for-26

: In the last two games, Southern Illinois has allowed teams to shoot 24-for-26 from behind the 3-point line.

3

: George Mason knocked down three 3-pointers in the final 30 seconds in its comeback victory.

77.5, 85.7

: Creighton shot 77.5 percent from the field and 85.7 percent from 3-point range in its 88-69 win over Southern Illinois.

November 27

: Tennessee-Martin hadn't defeated a Division-I team since late November, but the Skyhawks defeated Kennesaw State on Tuesday night.
Three other notable results:
Ohio State bounced back from its loss to Michigan State on Saturday with a 78-68 victory at Minnesota. William Buford had 24 points and Jared Sullinger went for 23.
Texas won its fourth game in a row, outscoring Oklahoma by 16 in the second half en route to a 69-58 win. Myck Kabongo had 13 points and seven assists.
Seton Hall won its third in a row after dropping six straight games, destroying St. John's by 30.
Notes:
Cleveland State lost its third game in a row since looking comfortable at the top of the Horizon standings, falling to Milwaukee, 86-84.
Butler won its third in a row, beating Loyola Chicago. With the Horizon getting more unpredictable everyday, could the Bulldogs be the conference tournament favorite – again?
Kent State knocked off Buffalo, 76-71, putting both teams at 9-3 in the Mid-American. Each team is now 1.5 games back of Akron.
Manhattan took another hit in its quest to for a regular-season MAAC title, dropping one on the road to Siena, 70-64.
More College Basketball coverage