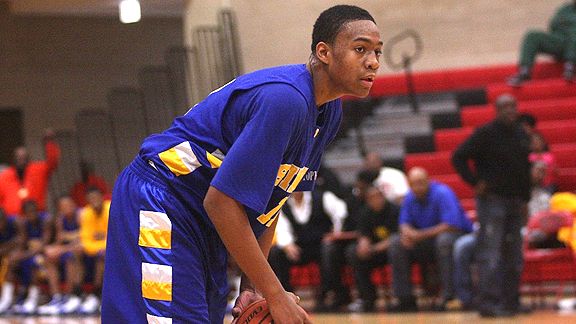 By Jeff Borzello
Some people compare Jabari Parker to Paul Pierce because of his versatile offensive game.
Parker, though, is aiming a little bit higher for his NBA comparison. As in, the only player in NBA history to average a triple-double for a single season: Oscar Robertson.
"He played all positions," Parker said. "He was way before his time."
If Parker was anything less than the best prospect in the high-school game, regardless of class, that comparison might seem completely ridiculous. But given the way the 6-foot-8 Simeon (Ill.) junior has redefined his body and his game over the past year, he has future NBA All-Star written all over him.
Parker is an outstanding offensive player with the ability to knock down mid-range jumpers with ease, get to the basket and finish or post up around the rim. He can handle the ball effectively and is an excellent passer for his position.
"A lot of people say I have an old school game," Parker said. "My body, I'm slimmed down, I can move much better."
Nowadays, the players near the top of the rankings are outstanding athletes with explosiveness to spare. Parker is more contained, relying on a wide range of skills to be productive.
Going against the high-flyers of the 2012 and 2013 classes doesn't faze Parker, though.
"It prepares me for college," he said. "Some players might be more athletic than me, so I have to work harder."
The son of former NBA player Sonny Parker will be the subject of one of the most hotly contested recruiting battles in the country, but for now he has a top five: Kansas, Washington, Duke, Illinois and Michigan State.
What endears the Jayhawks to Parker is their success.
"I'm looking to win, and they always go to the tournament," he said.
The relationship between Washington coach Lorenzo Romar and the Parker family has the Huskies squarely in the mix.
"It started way before I played basketball; my dad played with Lorenzo," he said.
Moreover, Parker said his brother might get a job on the staff at Washington -- but that wouldn't affect his choice. "Not really," Parker said. "He said it's my decision."
For the other three schools, Parker said the main thing that sticks out is the coaching.
Duke: "I like Coach K -- he's a very good guy."
Illinois: "I like Bruce [Weber] and Jerrence [Howard]. They're good people."
Michigan State: "Tom Izzo is one of the top coaches ever."
While Parker has had the same top five since the spring, he said he is not limiting his recruitment to that quintet. Ohio State, Florida and BYU are among the other schools looking to break through into his favorites.
"Other schools can get on the list," Parker said. "It's just all the websites asked about my top five."
As the top-rated player in his class, Parker has the luxury of going through his recruitment at his own pace. He could get it over with soon, or he could wait it out.
Considering how unselfish his game on the court is, it should come as no surprise that one of his reasons for waiting doesn't revolve around him.
"I want my teammates to get looked at," Parker said. "I'm going to take my time, not rush the process."
Oscar Robertson would be proud.
Photo: ESPN.com