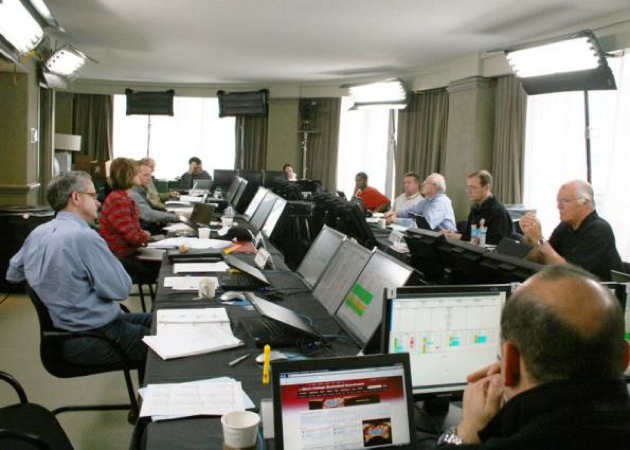 The NCAA tournament selection committee has a tough task ahead when evaluating this year's bubble teams. (NCAA.com)
Selection Sunday is always unpredictable, but this year will see even more questionable choices and inconsistency among the selections. This season, though, it might not be the committee's fault – there's just no easy way to sort through this season's bubble teams.
Aside from the fact the majority of them are playing themselves out of the field and have mediocre resumes when compared to past groups, there are so many bubble teams that have nothing in common. There is no singular way to stack up this group of resumes and get a consistent pecking order. Everyone will have a different way to stack up the teams this year, and everyone will focus on a different variable. What makes this season so difficult? Let's take a look at the biggest issues facing the committee this season.
Middling majors vs. non-BCS champs: This is going to be one that is debated by everyone until the moment the selections are made – and then for the following 24 hours after the show. Championship week turned several of the top mid-major champions into tournament casualties, specifically Oral Roberts, Iona, Drexel and Middle Tennessee. All four have exceptional records and solid overall resumes, but they will all be sweating on Selection Sunday. On the other side, we have a long list of power-conference teams that struggled throughout conference play but picked up a good win here and there. That list includes Miami (Fl.), Northwestern, North Carolina State, Seton Hall, West Virginia, Texas, Mississippi State and others. Which will the committee value more? Consistency throughout the season but no marquee wins? Or a few top-50 victories but inconsistency overall?
Injuries/Missed games: It seems that there are more injuries, suspensions or other special circumstances involving key players on bubble teams that will complicate selection than ever before. Here's a small sampling:
Miami (Fl.): Reggie Johnson, Garrius Adams, DeQuan Jones
North Carolina State: C.J. Leslie
Xavier: Tu Holloway, Dezmine Wells, Mark Lyons
Ole Miss: Murphy Holloway
Drexel: Chris Fouch, Derrick Thomas
Tennessee: Jarnell Stokes
Long Beach State: Larry Anderson
Washington: C.J. Wilcox
BYU: Matt Carlino, Noah Hartsock, Stephen Rogers
Northwestern: Jershon Cobb
South Florida: Anthony Collins, Augustus Gilchrist, Jawanza Poland
Oregon: Devoe Joseph
Arizona: Kevin Parrom
Dayton: Josh Benson
Which injuries will the committee weigh more than others? Are big wins when key players were out still viewed the same way? There are plenty of interesting considerations when looking at these injuries.
Pac-12: The Pac-12 has been its own complication this season. It had arguably the worst season any major conference has had in decades, and therefore is going to be difficult for the committee to evaluate. Moreover, for the first time, the Pac-12 had an unbalanced schedule, meaning Washington's 14-4 record isn't the same as the 13-5 record with which California or Oregon finished. If the committee views the Pac-12 as the ninth or 10th best conference in the country, a gaudy record won't matter much. If it views the league as a "big six" conference, a regular-season title would carry plenty of weight. Moreover, would the committee really only give the Pac-12 one bid if California wins the tournament? That's the way things seem to be headed.
Washington: The Huskies can be grouped with the Pac-12 category, as they will be the main beneficiary of the committee viewing the conference as a "big six" league. Washington has yet to beat an NCAA tournament team, but it won the outright regular-season title at 14-4. Would the selection committee really turn down the winner of a traditional power conference that boasts so much talent?
Tennessee: The Volunteers are going to be an interesting test for the committee, due to the fact they finished with the No. 2 seed in the SEC tournament and have beat some quality teams. Moreover, the availability of Jarnell Stokes will have a major effect on Tennessee's resume. The Volunteers were 10-5 with him in the lineup, and just 8-8 without him. However, the overall profile still isn't good and Tennessee's two wins over Florida came with Stokes playing a combined 11 minutes.
South Florida: If the Bulls get into the field, the committee will point to its 12 Big East wins and quarterfinal appearance in the conference tournament. If the Bulls are left out, they can point to the one top-50 win and terrible non-conference season. Either way, the committee is right (and wrong, depending on what you were hoping for). With the Big East having an unbalanced schedule, South Florida didn't have to go through a murderers' row to reach 12 wins. With that said, 12 wins in the Big East is still 12 wins in the Big East. Except when it's not. How will the committee see it?
Xavier: The Musketeers have a decent resume overall, but it's clear the various suspensions of Tu Holloway, Mark Lyons and Dezmine Wells played a major part in the midseason slump. Xavier was 0-1 without Holloway, 0-2 without Lyons and 1-3 without Wells. Take away that stretch in the Musketeers' resume, and it's likely an at-large profile. Will the committee completely remove those few games, though?
Drexel: The Dragons won 19 games in a row, won the CAA regular-season title outright and were playing some of the best basketball in the country late in the season. With that said, they lost to VCU in the CAA title game and don't have the profile that would historically get an at-large bid. Of course, this season is nothing like past seasons. This profile could go back to the mid-major champs vs. middling majors argument. The Dragons will be a great test case.
Dayton: The Flyers are not getting the same at-large attention as some other teams, but that would change with a quarterfinal win over Xavier on Friday night. The computer profile is terrible, with an RPI in the 70s, and there are four sub-100 losses on the resume. On the plus side, Dayton has wins over Temple, Saint Louis, Alabama, Xavier and Ole Miss. They are 8-7 against the top 100. Then there was the season-ending injury to Josh Benson in late December. Lots of good, lots of bad. Which will the committee weigh more?
Lack of similar resumes: This could be the biggest problem the committee faces this season. There's simply no way to compare the resumes of say, Iona and Seton Hall. One took advantage of the plethora of top-50 chances and scalped a few key wins, while the other beat nearly everyone in front of them but suffered bad losses in conference play. How can the committee look at Northwestern and its 1-10 top-50 record and say without a doubt that it's better or worse than Oral Roberts' 1-2 slate vs. the top 50? There are teams with no bad losses, and teams with four bad losses. There are teams with bad RPIs but good wins, and others with good RPIs but no good wins.
Each committee member will value one or two categories more than the others; collecting so many different opinions with this year's batch of bubble teams is going to be make it completely unpredictable.