INTERESTED TEAMS: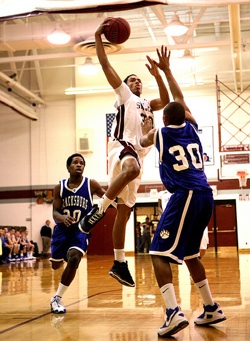 Posted by Jeff Borzello
HAMPTON, Va. – Jerome Hairston has flown under the radar for most of his basketball career, but that might change soon.
With the lack of big-time point guards in the class of 2012, Hairston's performance this spring has put him on the map with various high-major schools.
This past weekend, Hairston helped lead East Coast Fusion to a U-17 title at the Southern Jam Fest in Hampton, Va. He can get into the lane using the dribble, and then finish at the rim or kick out to a teammate. Hairston plays well in transition, getting baskets with contact and also running the break. He can knock down 3-pointers with consistency as well.
"I'm used to being underrated," Hairston said. "Being from Wyoming, it happens a lot. It happened to my brother and it happened to my cousin, [former Wake Forest star and current NBA player] James Johnson. I moved out here for exposure."
Hairston, a 6-foot-3 point guard, is now at Liberty Christian Academy (Va.). With his recent play in Pittsburgh and Hampton, his recruitment is starting to pick up.
"South Carolina is on me really hard," Hairston said.
He also mentioned UNC-Asheville, Virginia, Boston College, Yale and James Madison as teams currently in the mix.
Hairston is not in any rush to make a decision, but he knows what level he's gunning for.
"Of course I want to play high-major," he said. "But wherever I play, I want to help the team out, whether it's starting or coming off the bench."

Photo: Roanoke Times