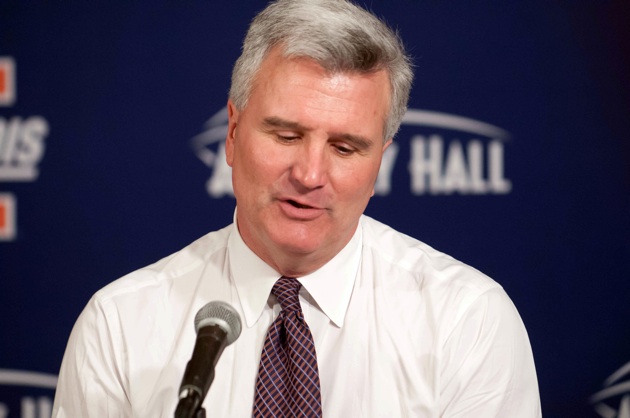 In his post-game press conference after Wednesday's loss, Illinois head coach Bruce Weber sounded defeated. (US Presswire)

By Gary Parrish
Bruce Weber should've taken the Oklahoma job last year.
I believed it then.
I believe it more than ever now because the Illinois coach lost for the seventh time in eight games Wednesday night when his Illini fell 67-62 at home to Purdue, and afterward
Weber sounded like a man who knows the end is near
. He publicly questioned his players. He publicly questioned himself. Privately, he must be second-guessing his decision to pass on various job opportunities the past few years -- most recently Oklahoma last March -- because barring a massive turnaround he'll either be fired or forced to resign within a few days of Illinois' final game this season.
Weber stayed at Illinois too long.
It's a mistake too many coaches make in an era when -- unless you're a surebet Hall of Famer like a Boeheim, a Calhoun, a Pitino, a Self, a Donovan, etc., -- you'd be wise to move every six or seven years. Changing jobs revitalizes you and keeps you from growing content. It also keeps you fresh among your fanbase and ensures you're always one step ahead of the so-called posse.
Leave them before they get tired of you.
Leave them before you start to level out or dip.
Rather than do that, Weber gambled that he'd compete for a Big Ten title in his ninth season and advance deep into the NCAA tournament, and that looks like a bad gamble as he sits tied for seventh in the league with a 5-8 record. But here's the truth: It was always a bad gamble because the Illini fans had already turned on Weber, and once that happens it's nearly impossible to turn them back around. Sure, you can hold them off with temporary success. But once fans stop believing you're the future you're always just one bad season away from a pink slip, and Weber is learning that now.
And it's a tough break for a good man.
Weber is genuinely respected by his peers, and my favorite story to prove this comes from last July when
I spent three days on the recruiting trail with Michigan State's Tom Izzo
. After a long first day of watching games in Indianapolis, Izzo and I had a private plane set to take us to Akron late on that Wednesday night so that we'd be fresh and ready to go first thing Thursday morning at the LeBron James Skills Academy. Weber did not have a private plane. He instead had a 3:45 a.m. wakeup call that would allow him to grab a commercial flight and take a more inconvenient route to the exact same place we were going, and when Izzo heard this he invited Weber to travel with us. Later, I asked Izzo why he offered a lift to Weber considering the plane was in essence an advantage in a recruiting battle for multiple prospects between Michigan State and Illinois. "I wouldn't do it for anybody," Izzo answered. "But if you lose a kid to Bruce you know it wasn't underhanded. You know he's going to do things the right way."
That's the best compliment a coach could ever give a fellow coach.
But that won't be enough to save Weber's job.
He's had recruiting problems at times and coaching issues at others, but right now, more than anything, he seems to have a problem of disconnect. His players have stopped responding to him. His fans have turned on him. The result is that his Illinois tenure is close to ending, and I can't help but think Weber would've been better off ending it a year ago on his own terms by accepting a seven-year contract worth roughly $17 million from a Big 12 school willing to give him a fresh start and clean slate.