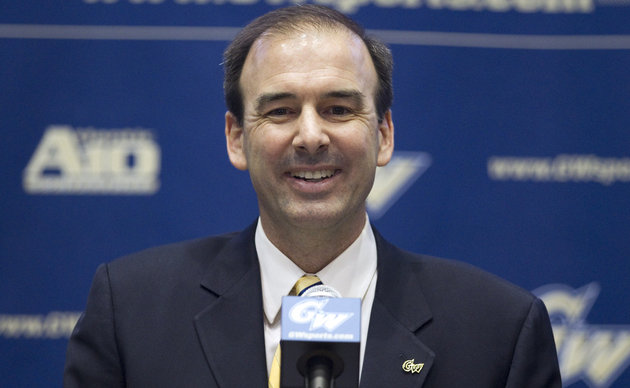 By Jeff Goodman


A-10 Offseason Report

Charlotte
– The 49ers will play against Miami, at Memphis (12-31) and at Arkansas. Gokhan Sirin left the program and DeMario Mayfield is eligible after sitting out last season following a transfer from Georgia.
Dayton
– The Flyers are in the midst of a trip overseas to Amsterdam and France. Archie Miller put together a staff of Kevin Kuwik (Ohio State), Allen Griffin (Hofstra), Tom Ostrom (Arkansas) and Bill Comar as the director of operations. The Flyers will play in the Old Spice Classic and also have non-league games vs. Alabama (11-7), vs. Seton Hall (12-21), vs. Mississippi (12-30) and at Miami. Brandon Spearman (Indian Hills) and Juwan Staten (West Virginia) left the program while Vee Sanford (Georgetown) transferred in. Kevin Dillard (Southern Illinois) is eligible this season after sitting out last year.
Duquesne
– Ron Everhart's team is in the tail end of a trip to Canada. Amadou Koundoul replaces Greg Gary, who left to go to Purdue. The Dukes will play in the Coaches vs. Cancer event and also have non-league games against Pittsburgh (11-30), against Penn State (12-10) and at George Mason (12-21). Joel Wright (Blinn JC) left and Rodrigo Peggau graduated early and enrolled at Seton Hall College.
Fordham
– Derrick Phelps left his position as the video coordinator to join King Rice's staff at Monmouth. The Rams will play at Syracuse (11-12), at St. John's (12-17) and at Georgia Tech (12-29). Brian Freeman, Rayner Moquete and Fahro Alihodzic all transferred out of the program.
George Washington
– New coach Mike Lonergan (above) brought Hajj Turner with him from Vermont – and added Pete Strickland (N.C. State) and Kevin Sutton (Montverde Academy) as well as former Maryland video coordinator Matt Lisiewski as his director of basketball operations. He also added former Vermont guard Maurice Joseph as his assistant DOBO. The Colonials will play in the CBE Classic against Cal and also will face VCU in the BT&T Classic (12-4) at the Verizon Center yet. GW will also play at Kansas State (12-1), at Syracuse (12-10), vs. UAB (12-28) and at Harvard (1-14) in the non-conference. Chris Fitzgerald (Columbia) and Tim Johnson both left the program.
La Salle
– John Giannini and the Explorers just returned from a trip to Canada. La Salle will play in the Hoop Group Classic (11-25/26) and also has non-league games at Villanova (11-15) and at Pittsburgh (11-22). Aaric Murray (West Virginia) transferred out while Ramon Galloway (South Carolina) came in and will be eligible to play this season after receiving a waiver from the NBA. Taylor Dunn (Winthrop) is also eligible this season after sitting out last year.
Rhode Island
– Larry Harris (N.C. State) replaced Kevin Clark (Towson). The Rams will play in the Legends Classic (at Texas on Nov. 15) and also in the UCF Holiday Classic along with James Madison and Stetson. Non-league games include at BC (1-2), at Nebraska (11-20), vs. Virginia Tech (12-7) and vs. Providence (12-23). Akeem Richmond transferred to East Carolina. Billy Baron (Virginia) and Andre Malone (Auburn) are both eligible after the first semester.
Richmond
– The Spiders replaced director of basketball operations Marcus Jenkins, who left for Princeton, with Kim Lewis. Chris Mooney's team will play in the Cancun Challenge and also has non-conference dates at Wake Forest (12-3), at VCU (12-10), at UCLA (12-23) and at home against Old Dominion (12-20).
Saint Louis
– Rick Majerus is expected to go with the team from Aug. 19-29 to Canada. Porter Moser took the head job at Loyola-Chicago and Tony Young was promoted. The Billikens will play in the 76 Classic in Anaheim and also have non-conference games against Washington (11-20) and at New Mexico (11-31). Christian Salecich transferred to Missouri Southern while Jake Barnett (Toledo) is eligible this season and Kwamain Mitchell will return to the court after missing last year.
Saint Joseph's
– Phil Martelli's team will play in the Charleston Classic and also has non-league contests vs. Villanova (12-17), vs. Penn State (11-26), vs. Creighton (12-10) and at Harvard (12-31). Carl Baptiste (Delaware) and Justin Crosgile (Eastern Washington) left while Todd O'Brien graduated early and has enrolled at UAB. Hanil Kanesevic (Hofstra) is eligible and should be an impact player for the Hawks immediately.
St. Bonaventure
– Mark Schmidt's team will play at Virginia Tech (11-27), at Illinois (12-7) and against N.C. State (12-20) in Rochester. Brett Roseboro transferred to UMBC.
Temple
– Matt Langel got the head job at Colgate and was replaced by Dwayne Killings (BU). The Owls will play in the Puerto Rico Tip-Off and also have a non-conference slate that includes games at Penn (11-14), vs. Villanova (12-10), at Texas (12-17), vs. Duke (1-4) and vs. Maryland (1-21) at the Palestra. Dalton Pepper transferred in from West Virginia and will sit out this season.
UMass
– Derek Kellogg's team will play in the Battle 4 Atlantis in the Bahamas. The Minutemen will play at BC and against Siena. Chaz Williams is eligible after transferring in from Hofstra a year ago.
Xavier
– Chris Mack replaced Pat Kelsey and Brian Thornton with Kareem Richardson (Drake) and Jeremy Growe. The Musketeers will play in the Diamond Head Classic in Hawaii (12-22/25) and also have a non-league slate that includes home games against Georgia (11-25), Purdue (12-3), Cincinnati (12-10) Gonzaga (12-31) and road contests against Vanderbilt (11-28), Butler (12-7) and Memphis (2-4). Jay Canty (Appalachian State) and Jordan Latham (Loyola) transferred out while Isaiah Philmore (Towson) transferred in. Andree Walker (Vandy) also came in and is eligible for his final year this season. Travis Taylor is also eligible after sitting out last season following his transfer from Monmouth. Justin Martin sat out last season due to academics.
Offseason reports: Big 12 | Pac-12 | Big Ten | ACC | Big East | SEC
Photo: AP