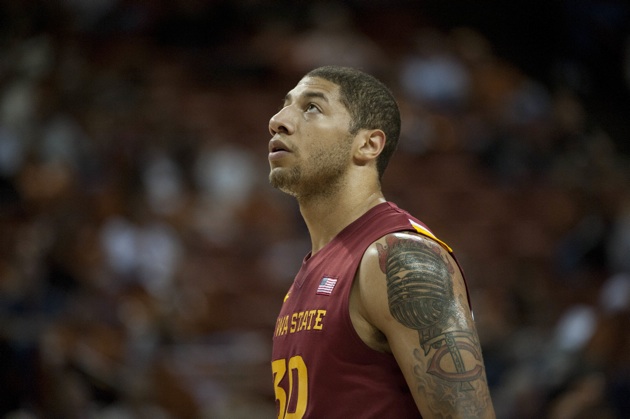 Royce White quit basketball in 2009. Now he has Iowa State on the verge of an NCAA tournament appearance. (US Presswire)
Royce White was ready to give it all up.
It was the fall of 2009, and White had yet to play a game for Minnesota. The highly-touted freshman was battling multiple legal affairs, including misdemeanor shoplifting charges and fifth-degree assault. Moreover, he was being investigated regarding the theft of a laptop.
Things were spiraling out of control off the court, and White felt he no longer needed the pressure of basketball.
So he announced, via YouTube, that he was quitting the sport. And taking control of his life.
"That was more of an address to the fans and people who cared and wanted an explanation," White said this week. "There was a lot of uncertainty about the situation, and a lot of people were questioning why I'm not on the court. It gave people something from my mouth that couldn't be distorted by the media."
And White meant it too. He stopped playing basketball, instead focusing on things outside of sports. White became a writer, penning everything from music and songs to business plans and marketing schemes. Instead of seeing a future in basketball, he began to think about long-term goals in business.
But, as much as he tried, White couldn't get away from basketball. He saw the other guys from the class of 2009 dominating in college: John Wall, DeMarcus Cousins, Jordan Hamilton, Derrick Favors, etc. Watching them succeed at the next level ignited a fire in him. Not a jealous type of fire, but a competitive one.
White knew he could hang with those guys on the court.
"Competitiveness is instilled in you," he said. "Seeing them being so successful pushed me to be successful. I had a burning to get back to the court. I almost wanted to prove something to myself."
There were several schools in the running for White, but he wanted to stay close to home and go to a place that was an underdog on the national scene. After leaving the sport, many people wrote him off – and so he felt he was something of an underdog too.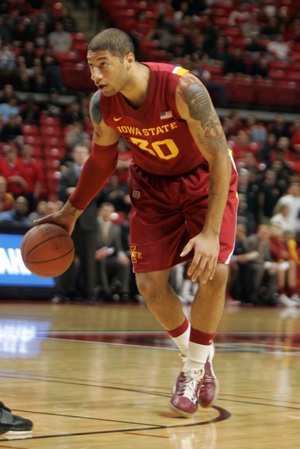 White leads Iowa State in scoring, rebounding, assists, steals and blocks. (US Presswire)
Iowa State, with new head coach Fred Hoiberg arriving on campus, was the perfect match for White's rejuvenation. Hoiberg was stockpiling talented transfers, with White as the headliner. Reports out of Ames in the offseason described White being a dominant performer – but questions still remained about the Cyclones.
Could all these attitudes and egos mesh together so quickly? Will all of the transfers remain focused? Has Royce White figured it out yet?
"Personally, I took offense to that," he said. "People who were saying it were part of the industry, who I already had a vendetta against. I was looking for something to take offense to; it helped me stay hungry. I embraced the idea of team and family. I had the most publicized problems, the most noted issues. They got grouped together with that. They didn't deserve the scrutiny."
White's motivation wasn't the only thing that changed since he originally gave up basketball. His mentality was completely different, his skillset was completely different, everything was different.
He no longer felt the need to prove he was the best player on the court at all times, no longer felt the need to dominate or score the most points.
"I was a better player than when I left," White said. "My mentality about the game; I was playing for fun. It was about achieving success on a team level. My success couldn't come without the success of the team. My thoughts about the game changed. Continuity, flow, getting people involved; those were the things I tried to embrace."
After figuring himself out, figuring out the Big 12 was easy.
White has had an enormous impact on the Cyclones, leading the team in scoring, rebounding, assists, steals and blocks – the only player in Division-I to achieve that milestone. The 6-foot-8 sophomore has a unique skill set, even at 270 pounds. As the team's best playmaker, he is basically a point-forward when it comes to facilitating offense and creating open looks for teammates.
White also has Iowa State on the precipice of the NCAA tournament, as the Cyclones sit tied for third in the Big 12 at 10-5. It would be the program's first NCAA tournament since 2005.
One might think that getting revenge on the game and proving everyone wrong might excite White. But he's not even thinking about that.
"It doesn't feel as good as I thought it would, to be honest," White said. "Basketball has become a piece of my life, but not all of my life. There's so much more now, wanting to help people on a very high level. My team's success, for this community, is the fulfilling part of it. It took the place of my own vendetta."
What would be the perfect ending?
"This community being happy with what we achieved," White said. "I know that winning an NCAA championship is my goal, winning a Big 12 tournament championship is my goal. But more important, this community being happy with this season and what we've done."
The next time White talks about giving up the sport of basketball, don't feel bad for him.
His future is in good hands. His own.