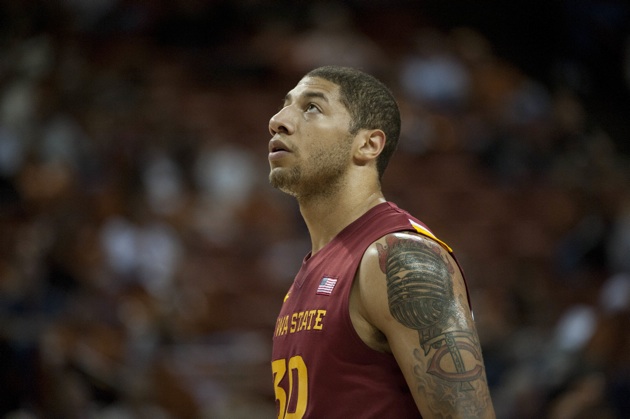 Royce White's shot with 1.8 seconds left capped a 14-point comeback, giving Iowa St. a win over Kansas St. (US Presswire)
Here's everything you need to know about Tuesday's slate of college basketball games …
Game of the day: Iowa State looked like it was headed for a letdown game against Kansas State, getting down by as many as 14 in the second half after its big win over Kansas over the weekend. However, the Cyclones stormed back late in the game and tied it up on a Chris Babb free throw with under a minute left. On the last possession, Royce White isolated himself and hit a short jumper with 1.8 seconds left to give Iowa State a 72-70 win.
Win to brag about: Arkansas was the last team in my projected bracket on Monday afternoon, and the Razorbacks solidified their at-large profile with an 82-74 victory over No. 25 Vanderbilt. Arkansas simply didn't miss midway through the second half, knocking down 3-pointers on five of six possessions, including three in a row, to gain an 11-point lead that it wouldn't relinquish. The Razorbacks now have wins over Michigan, Mississippi State and Vanderbilt.
Loss to hide from: It's not a bad loss, but Seton Hall has now dropped four in a row after its 66-59 defeat at No. 15 Marquette. The Pirates were up by 11 in the first half and led for most of the first 30 minutes of the game, but they struggled immensely on the offensive end and couldn't stop Marquette during the Golden Eagles' 20-5 run in the second half. Jordan Theodore went just 3-for-14 from the field, getting held to seven points.
Player who deserves improper benefits: Oklahoma State sophomore Markel Brown went for 30 points and seven rebounds to lead the Cowboys to an 80-63 win over Texas Tech. Brown is averaging fewer than 10 points per game on the season, but has totaled 71 points in his last four games (17.8 per game).
Player(s) who does not deserve improper benefits: The entire Michigan State vs. Illinois game was horrendous. Michigan State shot just 24 percent, with Illinois lighting it up at 33 percent. The Fighting Illini held on for a 42-41 victory, as Brandon Paul knocked down two free throws with 45 seconds left and Keith Appling missed a layup with two seconds left for Michigan State.
Numbers don't lie:
3-for-22: Michigan State's top three scorers – Draymond Green, Keith Appling, Brandon Wood – were horrendous offensively against Illinois.
11: Kentucky made its first 11 shots from the field against Tennessee.
9: Wisconsin scored just nine points in the first 16 minutes of its game against Penn State, but had 43 in the next 24 minutes. The Badgers won, 52-46.
0: Texas Tech is still winless in conference play – the only BCS-conference team without a league win.
Three other notable results:
North Carolina struggled offensively, but still topped Wake Forest behind 18 points and 18 rebounds from Tyler Zeller.
Virginia held off a late rally from Clemson to improve to 5-2 in the ACC with a 65-51 victory. Mike Scott went for 23 points and 10 rebounds.
Anthony Davis went for 18 points, eight rebounds and seven blocks to lead Kentucky to an easy 69-44 win over Tennessee.
Notes:
New Mexico certainly didn't overlook Air Force, hammering the Falcons on the road, 81-42.
Northern Iowa had lost five of seven heading into Tuesday, but beat Southern Illinois. They have Creighton and Wichita State up next.
Michigan State's Draymond Green left the arena on crutches after leaving the game with a knee injury. He will be evaluated in the morning.
More College Basketball coverage