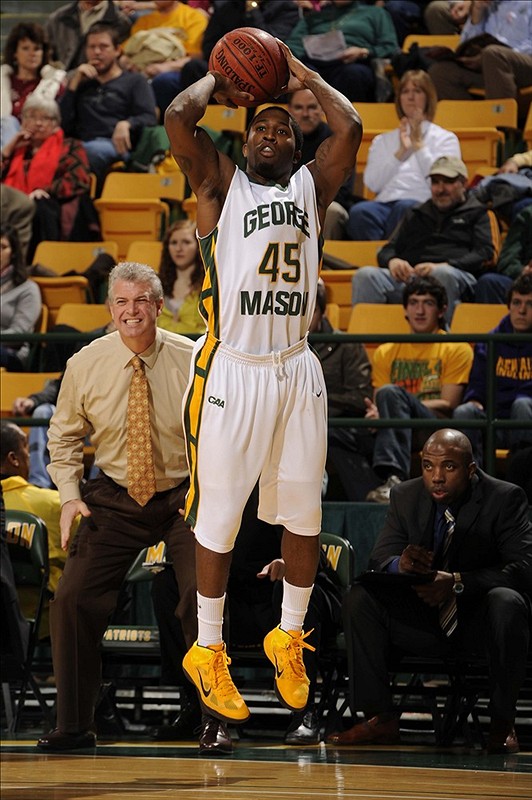 By Matt Norlander
Didn't want to let Tuesday afternoon slip me by without getting on record here at the blog a couple of stories that deserve to be spread.
George Mason and UCLA have seen starting members of their basketball teams get in trouble with the law in the past few days. We'll start with Mason, which will most likely start the season without junior guard Andre Cornelius (right). He was busted for credit card fraud
and
larceny Friday.
The team has indefinitely suspended him
.
According to the university's police department incident record, the 22-year-old Cornelius was taken to the Fairfax County Adult Detention Center and released on $1,500 bond.

"Cornelius has been summarily suspended from the team as a result of the charges filed against him," the school said in a statement. "The suspension will be in effect until the legal and University judicial processes have been completed."
Enter your pithy commentary about the plight of players here if you must, but there's never an excuse or reason good enough for that kind of petty crime. Cornelius was a starter in every game for the Patriots last season, with an effective field goal percentage of 53.7 (pretty good). Paul Hewitt, the first-year coach at Mason and former Georgia Tech head man, gets an early crack at discipline. How hard will he hit one of his best players?
He and the school well let the legal process play out until a decision is made, but this lack of judgment probably calls for a few games on the pine, I'd think. At least if Hewitt wants respect from his team in the early going.
As for UCLA, Ben Howland had some good news and bad news with Andersons on Monday. He couldn't be happier, I'm sure, that the Kyle Anderson's commitment Monday night came shortly after the school announced Jerime Anderson would be suspended two games for his involvement
in laptop theft in late July
.
The defined suspension comes after he was indefinitely suspended -- and in the offseason, what does that really mean? C'mon. -- by Howland soon after his arrest.
Anderson won't play in the team's exhibition on Nov. 6 against Cal State San Bernadino. He'll also be out for the first real game of the season, the Nov. 11 matchup against Loyola Marymount at home.
From the AP
:
Howland said Monday that Anderson has been "very remorseful" in admitting his mistake and accepting responsibility for his actions. Anderson pleaded guilty last week to charges of appropriation of lost property and trespass. His attorney, Jon Artz, says the plea agreement was based on evidence demonstrating Anderson's good conduct and moral character from community members.

Anderson must complete 300 hours' community service in a two-year period to have the plea of appropriation of lost property withdrawn. The misdemeanor charge of trespass would stand.
Heavy community service, certainly. A bad look for Anderson, who is a junior with decent defensive and passing skills. One real game isn't much a punishment. Given all that was levied against him, few could make a case against Howland if he wanted to sit Anderson for three or four games. But so few coaches actually have the courage to do that these days. We'll see if Hewitt bucks the trend soon enough.
Photo: US PRESSWIRE