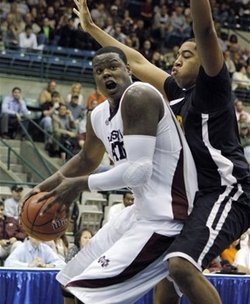 Posted by Matt Norlander
4:09 p.m:
Mississippi State has now suspended Renardo Sidney in the
wake of an incident at a practice yesterday.
Funny how these things take shape, isn't it? Will link to the school's official response once it becomes available.
The following was the post that ran shortly before the school announced the suspension.
It's important in most cases not get
too
caught up with the Twitter page of a collegiate athlete, but because we're dealing with Mississippi State's
Renardo Sidney,
I think his tweets from this afternoon are worth bringing to your attention. Here's a smattering from within the past few hours:

"It's 6 over here and I can't sleep got alot of stuff on my mind and that's not good :/ wondering if this what I really want to do????"

"@
The_Kip_Wilson aye dude u going to far with ya tweets if u go say sum say positive things I dnt want to go off on u real talk"

"@
GaustinG aye f*** u dude u dnt kno what u talking about get the f*** off my page"

"If u go to Mississippi state and I dnt kno u dnt hit my page up and u dnt kno what u talking about cuz it can get real ugly in Starkville..."


"For your info I didn't quit no team it's just a rumor!!"


"All smiles right now :)!"
Well, I'd say he covered the emotional gamut, wouldn't you? This snowballed a bit because the first quoted tweet was clearly a mystery wrapped in a riddle, one many a Bulldog fan wouldn't be faulted for interpreting as Sidney openly pondering his future with the program.
He's saying that's not the case, so let's believe and leave that at face value for now. Still, although a lot of what we write about and cover are young men (with emotional swings; all part of the growing process), it's always a little unsettling to see players lash out at pesky, trouble-making followers as they make vague references to violence, should the parties ever meet. (See: the fourth tweet above.)
By the way, this is all a sensitive topic due to Sidney's history of, you know, not playing.
In case you need a reset on Sidney, in a nutshell: The
NCAA didn't let him play for Mississippi State last season
after it was deemed his family received improper benefits (this took nearly the entire season to determine). It was believed by some he'd never attend school after the verdict, instead opting to enter the NBA Draft. However, questions existed about his work ethic and weight, so back to Starkville he went,
soon tweeting
about his plans for the 2011 Draft. His punishment from the NCAA extended through this season's first nine games, and the power forward finally played his first game in an MSU uniform Saturday, scoring 12 points, grabbing three rebounds, committing four turnovers and fouling out in 25 minutes of play in an 88-57 MSU loss to Virginia Tech.
There's a ways to go for Sidney, who will need some time to become the feared factor on the court many expect him to be. Off of it, it's better if he keeps as low a profile as possible and take the fingers off the phone keypad, lest he bring more drama to his and his team's situation.

You can follow Norlander on Twitter: @CHJournal
Photo: AP