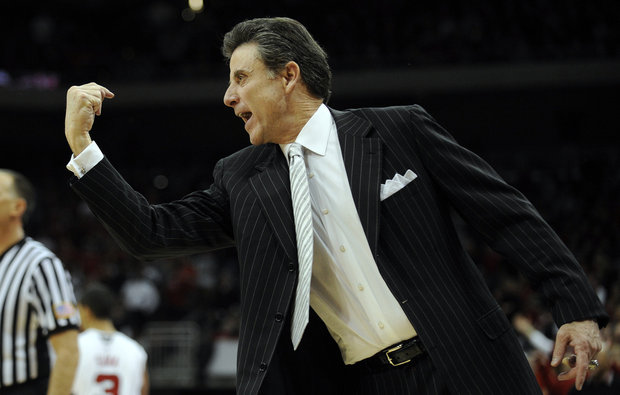 Posted by Matt Norlander
How about this: The comments Rick Pitino made about concussions is the dumbest thing he's been associated with in a long, long time.
Yes, dumber than the
Karen Sypher mess.
Speaking about serious head injuries as if they were the in vogue medical ailment of the modern era — think ADD and ADHD's rise in the past decade —
Pitino pontificated in a postgame presser
about how we're all just a little too trigger-happy to diagnose our athletes with these silly concussions.
"It's the 17th concussion we've had this year," Pitino condescendingly told reporters a few days ago. (Was that supposed to be a shot at the team trainer?)
After Louisville defeated Gardner-Webb 78-49 Saturday afternoon, the Louisville coach was in good spirits and bantering with the press. (This just days after
not being like that
, at all, following the Cardinals' loss to Drexel.) Hey, maybe it was the comfort of
landing the job
coaching the Puerto Rico national team; maybe it was something else. Either way, Pitino got ignorant on us in a quick moment when he challenged old-school, incorrect thinking re: the potential dangers of concussions.
Fast-forward to the 2:45
mark to hear his comments — or the 2:35 mark, if you'd like to hear him make a Kenny Loggins joke. Yes, anything was fair game for Pitino on this night. He certainly did go into a ... danger zone ... on this topic.
"I've been coaching now 35 years. I've seen maybe five concussions in 35 years," he said. "The new thing is everybody has a concussion. If you walk out and slightly brush the door, you have a concussion. That's the way it is today. Everybody has a concussion today. [Elijah Justice] had concussion. [Pitino laughs, followed by inaudible question from reporter]. Yes, barring the fact if he doesn't walk into the door at Benardi Hall and get
another
concussion."
You can tell Pitino was just
waiting
for that question about Elijah Justice's head condition. To make light of it sends a terrible message, one that, if I was a parent, would be a huge turn-off if Pitino happened to be recruiting my son. In football, where the issue has reached the daily mainstream conversation, more and more people are becoming educated on the subject and embracing all precaution that must be taken following a thwack or thump to the dome.
But in basketball, it seems some have ways to go.
The NCAA has a two-page check-off sheet
of sorts to help coaches with identifying concussions, but this is clearly not enough. The sport could be more susceptible to negligence in this regard because coaches and players haven't had this issue (ironically) beaten into their heads enough yet.
They'll get there eventually, though. Comments like Pitino's only show the process as slower than we'd hope for it to be.

(H/T, ESPN CBB Nation )